Wooden Blinds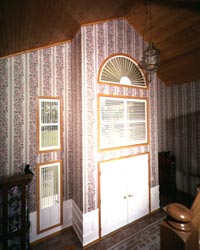 Wooden blinds consist of horizontal wood slats that can be tilted open or close for light control and privacy. Like fine furniture, wood blinds add a special touch of warmth and rich, natural beauty to any room. Wooden blinds are available in 1-inch, 2-inch, 2 5/8-inch and 3-inch wide slat sizes, in a full range of finishes, from stains and paints to a rougher sandblasted finish. The 1-inch slats create a busy look, limiting your view to the outside.
Based upon your specific situation though, you may need a 1-inch slat size. Wooden blinds made with 2-inch wide slats provide a traditional look and are the most popular of the widths available. The 2 5/8-inch and the wider 3-inch slats provide a shutter look and offer a less obstructed view to the outside; because the slats are wider, it takes fewer slats to construct the blind and thus the slats rest farther apart.
What it can do for me?
Easily coordinate with the color of wood flooring and fine wood furniture.
The 2-inch to 3-inch slat sizes create a look similar to that of a plantation shutter.
Blinds made with the 2 5/8-inch and 3-inch slat widths produce a smaller stack of slats at the top of your window when fully raised, than their 2-inch or 1-inch counterparts. This is because the wider the slat, the fewer slats necessary, resulting in a shorter stack of slats when fully raised.
Effectively control outside light by tilting the wood slats with a wand or cord while providing necessary privacy. A room can be darkened substantially when the slats are fully closed.
Simple to operate. Blinds can be pulled up to allow an open view to the outside. Please note that if you intend to pull your wood blinds up regularly, carefully consider the size of your window and the resulting weight of the blind. The larger a blind's size the heavier the weight.
The heavier the weight, the greater the effort required to raise and lower the blind.
To reduce wear and tear on cords, fully open slats before pulling the blind up. This reduces friction and requires less effort.
Easy to maintain and very durable.