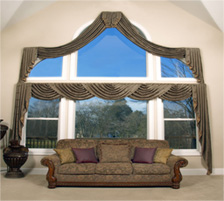 View Photo Gallery
Client Testimonials
Mary Jane C.
"Mr. Marshall was a delight to work with from the initial contact. He responded quickly to a phone message, even before I anticipated, and was available for a consultation on short notice. That was important because the windows in my house had just been replaced and we wanted new "honeycomb" fabric blinds installed as quickly as possible. He was also available for an early evening appointment, which my husband and I greatly appreciated. Although we wanted the blinds quickly, we also wanted good quality blinds, and he had excellent options from which to choose, along with a good range of color selections. We also had the good fortune of being able to take advantage of a special offer that saved us nearly a $1,000.00 on the blinds we preferred. As promised, the blinds arrived in two weeks, even a couple of days earlier, and Mr. Marshall arranged an appointment to install them at our earliest convenience. Again, as promised, he had the blinds (21) installed in about two hours. We will definitely choose to go to him if we decide to install window treatments, and I gladly recommend his services."
S.Trask
Vender promptly called and made appointment to come to home to take measurements for shades. Showed up exactly on time and on day promised. Took measurements and told me they would be ordered and should arrive in about 2 weeks. Called just one week after measurements were taken and said shades were ready to hang. Came out next day to hang them. They fit perfectly and look very nice. He cleaned up any mess from installation and disposed of my old shades. Was able to pay for balance with my master card which is a feature I always look for.
B. Whitehouse
This was the second time I have worked with Charlie. He is great to work with. He has a lot of experience. He made suggestions and was very patient with me while deciding fabrics/ design. He installed all of the products (blinds, shutters, and drapes) very well. I had a small issue with the shutter; he resolved it quickly and without problem. I would work with Charlie again and I would recommend him!
Mrs. Gibb
After I ordered the product, he called as soon as it arrived, a head of schedule. He than arrived at the scheduled time to installed the window coverings. He was very efficient and pleasant while performing the task. I was concerned about some loose threads and he took care of them and assured me that if in the future a problem arose, the company would replace the panels.
Vicki Miller
He was very quick to respond to my phone calls and to providing his service. When he hung the finished draperies he went to great lengths to make sure they were hung with absolute precision! He is not only very skilled and professional but also a very nice man!