Micro/Mini Blinds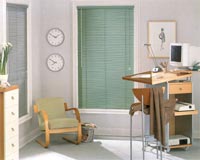 Aluminum blinds are available with three different slat sizes: the standard 1-inch mini, 1 3/8" mini, micro (1/2-inch), and macro (2-inch) aluminum slats to create the look that's right for you. These blinds are available in over 100 colors and finishes. Decorative cloth tapes are available with the 2-inch product. Slats are available in 6, 8, or 9-gauge aluminum. The higher gauge the aluminum the more durable the slat resulting in a lower chance of permanent bending or denting. These blinds are easy to maintain.
Moderate light control (minimal light gaps) by tilting the slats while providing privacy.
Blinds can be raised to allow an open view to the outside. Two inch slat aluminum blinds are heavy and require significant effort to raise when the blind is greater than 60" wide and 60" tall.
To reduce wear and tear on cords, fully open slats before pulling the blind up. This reduces friction and requires less effort.