Horizontal Blinds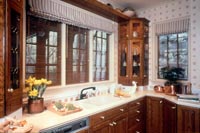 Think horizontal blinds are tired and boring? Not so! Today's horizontal blinds are more fashionable than ever, thanks to a wide assortment of colors that allow them to fit virtually any decor.
In addition, many of the products available on the market today come with sleek-looking headrails and other attractive features that make them a perfect product for a homeowner looking to block out light and gain privacy.
Hunter Douglas Window Fashions, for instance, has introduced a Lightlines horizontal blind. It has an exclusive deLight feature that blocks out the light that ordinary horizontal blinds do not. The new Lightlines product hides the rout holes typically associated with horizontal blinds. The absence of the rout holes not only keeps out the light, but also makes for a more aesthetically pleasing product.
Love the thought of horizontal blinds but hate the thought of dust? There are now products on the market that address that problem. Levolor Home Fashions, for instance, features DustGuard as an option on its horizontal blinds. DustGuard is a special patented process that neutralizes the forces of static electricity to resist dust and other airborne particles.
Springs Window Fashions Division Inc., meanwhile, has introduced an aluminum blind system that features improvements in operation and appearance. The new blind, known as the Graber Ultimate Supreme, includes an All-In-One cord that allows the user to raise, lower and tilt blinds evenly, a lift tape that is much thinner than traditional cords for improved slat closure, and a new light-blocking headrail.