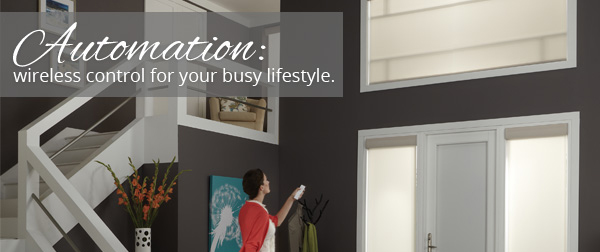 The set-up is simple. There is no electrical work needed. There is a battery connected within the shade's headrail. We program the remote and you are ready to begin.Id you would like to use an existing outlet, instead of batteries, a plug-in adapter is available. Changing the batteries is not difficult nor very often. With the automation being used an average of twice daily, the batteries should last 1-2 years with most brands of shades.
Pleated shades, roller and honeycomb,
have the best battery life of all the brands, averaging 3-5 years. Check with your shade professional about Lutron availability. Cordless and wireless are the safest window treatments for a child's room. Most all window treatments can be motorized. Shades, shutters, blinds, and draperies.
custom draperies by designers touch
502 267 4971, 912 944 2267, charlie@designers-touch.com, designers-touch.com